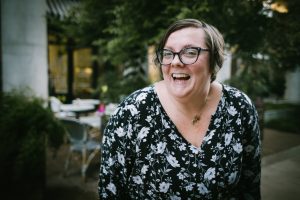 Amy Jordan wants you to have fun again! Let her bring her boundless positive energy into your team to help you UNLEASH the power of creativity.
Improv workshops help develop the following skills:
Trust
Confidence (as individuals and as a team)
Flexibility
Empowerment
Empathy
Creative Thinking and Problem Solving
Conflict Management and Negotiation skills
Learn to create an atmosphere of acceptance
Bonding with Co-workers
Improve communication skills
Stress Relief
Get silly with your co-workers
Getting to Know You (improv – 2 hour workshop)
Are you and your team brand new to each other? Do you need some help breaking the ice before the real work can begin? In this two hour workshop, Amy will provide you with a fun-filled series of improv exercises that will help you get to know your fellow teammates and work on your communication skills at the same time! This workshop is great for real estate agents, IT customer service teams, improv troupes, grocery managers… pretty much any group of people that wants to connect!
Spark your creativity (improv – 2 hour workshop)
Have you hit a rut in coming up with new ideas? Been a while since your last improv workshop? Feel a little sluggish and creatively empty? If you're worried that the old team doesn't have the same pep it once did, invite Amy in to help! Through improv games and positive reinforcement, Amy will help you kickstart the creativity in your team!
Writing workshops can develop the following skills for your team:
How to use storytelling to benefit your business
Improve your Public Speaking Skills
Learn basic story structures
Audience engagement
Learn how to weave story and humor into your speeches/presentations
You can write comedy (writing – 3 hour workshop)
In this hands on workshop, Amy will teach you a couple of comedy writing styles that you can use in your performances, in your work presentations, or in your own blog. Confidence is key and that is what Amy will infuse you with. During the 3 hours of this workshop, you will learn writing styles through games and then you will write your own comedy right then and there! Get ready to get the work done!
Amy is available for
Improv/comedy writing/podcasting workshops for groups of 2-50 (pricing varies by size)
One-on-one coaching sessions (improv, comedy writing or podcasting focus all available – just ask!)
BOOK YOUR WORKSHOP WITH AMY TODAY!
[contact-form][contact-field label="Name" type="name" required="true" /][contact-field label="Email" type="email" required="true" /][contact-field label="Website" type="url" /][contact-field label="Message" type="textarea" /][/contact-form]